Paint

Sound

.

TM
Jazz Drum Lessons For All Drummers
Unlock Jazz drums. 100% practical, real-world Jazz drum lessons.
Pay one time for a course and drum forever!

Learn Jazz Drumming
Jazz drumming online drum lessons for drummers of every skill level.
Brushes Mastery Course
A complete cours
e to learn drumming with brushes.
Secrets of Jazz Drumming
Learn over 100 Jazz drumming secrets that'll make you a better drummer.
Intro To Jazz Drumming
An essential course to start learning Jazz drums.
Jazz Drumming Patterns
Take your drumming independence to another level.
Afro-Cuban Drumming
The most used
Afro-Cuban Latin beats in Jazz drumming.
Jazz Funk Drumming Feel
Learn how to swing your Funk beats.
Brazilian Drumming
Learn the Samba, Baião and Bossa Nova drum beats we use in Jazz drumming.
5 Reasons Beginner Drummers Should Learn Jazz Drums
Jazz drumming is for every drummer
Jazz drumming skills can make any drummer from any genre more successful.
For years, I have been praising the benefits of Jazz drumming. I am a Jazz drummer but I also play at least a dozen other styles of music on a regular basis.

Learning Jazz drumming has opened countless doors and made me 100's of thousands of dollars over the years. If I didn't know Jazz drumming, my music career would be very limited both creatively and financially.

I want you to have many opportunities to enjoy playing drums and even make money while you do it. I've created courses here that will guide you step-by-step to learn Jazz drumming.

When you're done, you'll have so much more drumming freedom to really play what you want to play and make great music with other musicians. My courses will also help open doors to new playing opportunities for you.
What drummers say about Jazz Drum School
The videos are informative, well presented, and high quality. I am loving this content and it is incredibly useful material (Brushes Mastery Course).
Jonathan M.

Course Customer
I like very much the course (Brushes Mastery Course) and your musical approach.
Philippe P.

Course Customer
Von Baron's courses reflect his relentless pursuit as a teacher. They are well executed and explained (All Courses). Most of all, Von Baron exudes a timeless joy for drumming.
John Cushon - Drum instructor, drummer for Oleta Adams, recording artist and producer
Very inspiring and achievable. A wonderfully designed course (Brushes Mastery Course) that eliminates all the mystery and guesswork associated with the fine art of brushes. I was able to learn and improve immediately. All from an excellent drummer and teacher!
Ernest D.
Course Customer
It is a great course (Brushes Mastery Course)!
Steve C.
Course Customer
Thank you VERY much! The lesson on hi-hat really helped me. (Intro To Jazz Drumming Course) It was gold and worth the price of the course alone.


Jonathan M.
Course Customer
I've been enjoying your brushes course (Brushes Mastery Course) a lot and found some really useful lessons in there. The new Latin patterns beyond my basic Bossa are a godsend!
Francis O.
Course Customer
Well, Von Baron is just brilliant, so glad I found him and instantly joined up for the courses. Von Baron's videos and PDF's are just excellent and so easy to understand.
He also takes the time to explain in detail how to play. Von explains step-by-step, how it should be played and performed. He's not rushed like some others on videos where all they want to do is to show how fast they can drum.

I recommend signing up with Jazz Drum School 100% because you are in good hands. I have learned so much in a short space of time but still have a long way to go.

I will be sticking with Von Baron as my main source of learning how to play Jazz. Thank You Von Baron for a fantastic programme.
Kevin L.
Course Customer
The videos are superb quality (Jazz Drumming Basics) and how you address the particular points and nuisances that may lead to problematic issues is outstanding.
Ron D.
Course Customer
In addition to the excellent teaching (Brushes Mastery Course), the web page–including your responsiveness–is awesome.
Richard B.
Course Customer
How to play Jazz on drums
Jazz drumming is more complex than most other styles and you need drum lessons that teach you what you really need to know.
There is a ton information out there about Jazz drumming. Countless blog posts (
including my own drumming blog
) and videos are available at your fingertips.
With all of this information, it should be easy to get better at Jazz drumming, yes? Well, not really.
I estimate that about 50-60% of the Jazz drumming education on the Internet is not actually helpful for you to play Jazz drums skillfully.
What you need are drum lessons that walk you step-by-step through the core concepts and exercises that will grow your Jazz drumming skills quickly and consistently. My courses here at Jazz Drum School do exactly that.
I take even the most complicated parts of Jazz drumming and make them easy to understand. My goal after-all is for you to
really
learn how to play Jazz on drums and unlock your drumming imagination.
I'll help take the mystery out of Jazz drumming and make it easier for you to integrate Jazz with your current playing ability.
If you're just starting out, I recommend the
Intro To Jazz Drumming course
. Learn some basic Jazz drum beats, drum fills and concepts. You'll get a solid foundation for your Jazz drumming.
After completing the Intro course, my
Jazz drummer independence course
will take your drumming to a much higher level.
Why online drum lessons?
The World has changed and so has the way we learn drums.
Back when I was starting out, I always had in-person drum lessons. They were beneficial of course, but had some limitations.

One of the biggest limitations was that I had to remember everything that happened in my lesson and had no way of replaying the lesson to review things I may have forgotten.

Fast forward to today and online drum lessons are the way of the future. You can now learn things at your own pace, in the comfort of your home and you can review your lessons as many times as you like.

All of my online drum courses are also a one-time lifetime payment. No need to pay for annoying and costly monthly subscriptions.
Jazz drumming lessons
Online Jazz drum lessons are one of the best ways to improve your drumming.
Jazz drumming lessons teach you how to play many styles of music we often play at Jazz gigs. They also teach you about song structure and form as well as how to read Jazz drums sheet music.

The right Jazz drumming lessons will give you all of the skills you need to succeed at drumming personally and professionally. One of the things most Jazz drumming lessons don't cover however, is how to connect your drumming to the rest of the band.

I believe that 50% of your Jazz drumming lessons should cover the mechanics of playing Jazz drums. The other 50% should be how you connect your playing to the music and other musicians' playing.

This 50/50 approach is the bedrock for all of my courses at Jazz Drum School. In my courses, you'll gain confidence using your new Jazz drumming skills inside and outside of the practice room.
Drumming with brushes
Drumming with brushes is often the weakest part of drummer's playing.
Drum brushes were used in drumming for the first time about 100 years ago. Since that time, the way drum brushes are used, has evolved.
In the 21st Century, drum brushes playing has seen a resurgence in popularity and use across many genres of music.
Hip-hop, Latin, R&B and Funk are some the styles in which we hear drummers using brushes today. The broad spectrum of texture and color that brushes provide also makes them ideal for sampling, looping and other music production.
In my
Brushes Mastery Course
here at Jazz Drum School, you can learn smooth, impressive and useful drum brushes patterns and drum fills for a wide variety of drumming styles.
Drumming with brushes is particularly important in playing Jazz music. In the course, I teach them in a Jazz drumming context. You will quickly see though, how you can use my patterns, fills and concepts in whatever styles of drumming you play.
Drumming with drum sticks and drum brushes are equally important in Jazz drumming and beyond. The Brushes Mastery Course will greatly strengthen your brushing ability.
Instructor: Von Baron
Thank you for visiting Jazz Drum School!

During my 35+ years of Jazz drumming, I've performed with Jazz legends like Benny Golson, Stanley Jordan, Eddie Henderson and Geoff Keezer. These experiences really strengthened my Jazz drumming abilities.

They also helped me figure out what's most important for you to learn in Jazz drumming. At Jazz Drum School, I cut through the information overload you see on the Internet. We get straight to the heart of what you need to learn to quickly get better at playing Jazz.

Teaching 10,000 + drum lessons over the years has also helped me develop a teaching style that is relaxed and easy-to-follow.

I'm grateful to the drummers in North America, Europe, Australia and Asia who are improving their drumming at Jazz Drum School. Thank you too for checking out my Jazz drumming courses today!

While you're here, be sure to join my email list below so you know when new courses are launched.

Be well and keep swingin'! -Von
Need some private Jazz drum lessons too?
Book a private online drum lesson with me. See my store for more details about my lessons or click on "Book a lesson" to pay and schedule your lesson today!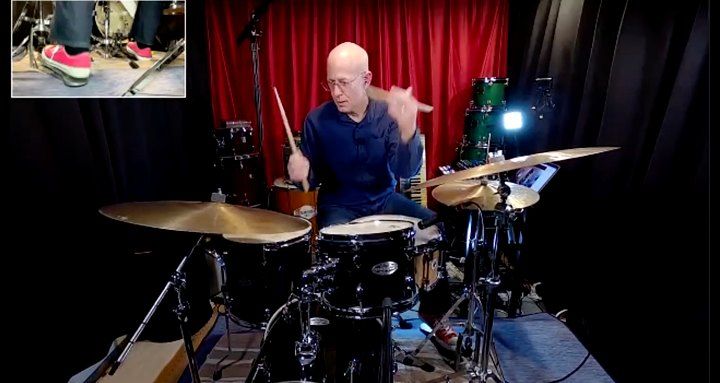 Subscribe to my Jazz Drum School One-Minute Lesson emails. I'll be sending you a
couple of one-minute drum lesson videos
each month to help improve your playing.

I'll also share occasional updates and special discounts on courses at jazzdrumschool.com. Sign up today and get your first one-minute lesson video!
Created with