Join today
AFRO-CUBAN LATIN DRUMMING
Master the heartbeat of Afro-Cuban drum set
Play the most-used Afro-Cuban Latin drum beats in Jazz.
Welcome to the Afro-Cuban Latin Drumming Course!
SKILL LEVEL: Beginner - Advanced
Latin Drumming Drum Lessons
My
Afro-Cuban Latin Drumming Course
will make you more confident playing many of the Afro-Cuban Latin drum beats we use in Jazz drumming. After completing this course, you will be able to play a whole new set of Latin grooves for the drum set and use them when you play Jazz music.
West-African drumming became two main styles of playing we often call "Latin" drumming. One style is Brazilian (coming from Brazil) and the other Afro-Cuban (coming from Cuba).

Afro-Cuban Latin drumming played a huge role in the creation and evolution of Jazz drumming. We still use many Afro-Cuban Latin grooves in Jazz drumming today.
Latin Drum Beats On The Gig
For most drummers though, it's often confusing both how and when to play these grooves. This course will teach you how to play essential Afro-Cuban Latin grooves and play them with other musicians.

Maybe you've been on the gig and the singer said, "Let's do this song in a 6/8 Afro-Cuban style." Or the pianist said, "This tune is a 3:2 Son Clave." If you're like me, I used to be like a deer in the headlights in these situations. I had no idea what to play.

This course will help you know exactly what to play and when to play it. Learning Latin beats like Mambo, Cha-Cha-Cha, Bembé, Songo and 3/4 Afro-Cuban are going help you gain more confidence in your Jazz drumming and get more playing opportunities.
More About These Drum lessons
This course has videos for:
How to play with Latin drumming feel
Son, Rhumba and Bembe Clave
10 important Afro-Cuban Latin drum beats,
Useful drum fills for this style
How to choose the correct Clave pattern
Listening recommendations
These drum lessons also follow a downloadable 6-page PDF.
I've even included 8 drumless tracks in this course that have 4 different mixes each. These will help you master your Latin grooves with authentic Afro-Cuban music played by real musicians.
The mixes include:
Full mix with all instruments
Mix without percussion
Mix with percussion only
Mix with bass only
All lessons are great for the beginning drummer up to the advanced drummer. Sign up today and add Afro-Cuban beats to your Jazz drum set playing.
Drum Lessons Power Pack
Get this course + 3 more at a huge discount! Focused Jazz drumming lessons for beginner to advanced drummers.
Get swinging at an incredible price!
AFRO-CUBAN DRUMMING LESSONS
The essential Afro-Cuban grooves every Jazz drummer needs to know
INTRO AND BRAZILIAN 16THS - 08:17
CLAVE AND BEMBÉ RHYTHMS - 11:04
MAMBO SON & RUMBA CLAVE + BONUS GROOVE - 15:08
2:3 MAMBO SON CLAVE PERFORMANCE - 01:37
3:2 MAMBO RHUMBA CLAVE PERFORMANCE - 01:52
CHA-CHA-CHA - 09:55
CHA-CHA-CHA PERFORMANCE 1 - 01:41
CHA-CHA-CHA PERFORMANCE 2 - 00:45
GUAGUANCO - 05:20
GUAGUANCO PERFORMANCE - 01:39
BOLERO - 08:14
BOLERO PERFORMANCE - 04:41
SONGO - 04:45
SONGO PERFORMANCE - 00:33
MOZAMBIQUE-MAMBO HYBRID GROOVE - 7:07
MOZAMBIQUE PERFORMANCE - 05:54
BEMBÉ - 08:02
BEMBÉ PERFORMANCE - 00:45
9/8 OR 3/4 AFRO-CUBAN - 10:24
9/8 OR 3/4 AFRO-CUBAN PERFORMANCE - 01:49

DRUM FILLS - 08:13
CHOOSING THE CORRECT CLAVE AND CONNECTING TO THE MUSIC - 14:14
LISTENING RECOMMENDATIONS - 03:50
PREVIEW THE COURSE
Here's some from the Songo Latin beat drum lesson. There is a PDF download for this and all of the drum beats when you enroll.
The Afro-Cuban Latin Drumming Course
FOCUSED
This course saves you time and money by focusing on the most important Afro-Cuban Latin drum beats you need to play Jazz drums like a pro.

By the end of these online drum lessons, you'll expand your drumming independence and add new grooves, fills and rhythms to your drumming.
13 video drum lessons

A 6-page PDF with all of the grooves and drum fills written out.


32 backing tracks for drums.

10 video examples from my actual performances using these grooves.
AFFORDABLE
One-Time Payment. Lifetime Access to your course. Pay once, drum forever!
PAINLESS
Learn with a relaxed, step-by-step method at your own pace.

You can also track your progress and see how much you have accomplished. Example below is from the Brushes Mastery Course.

"I recently completed the Afro-Cuban Latin drum set course by Von Baron. As someone who's been playing drums for several years, I was looking for a course that could help me expand my Latin drumming skills. This course did not disappoint."
"The rhythms and independence were challenging, but Von made it fun. I feel like I've expanded my musical horizons and gained a new appreciation for Latin drumming."
Need a little more help with your Latin drum beats?
Book a private online drum lesson with me. See my store for more details about my lessons!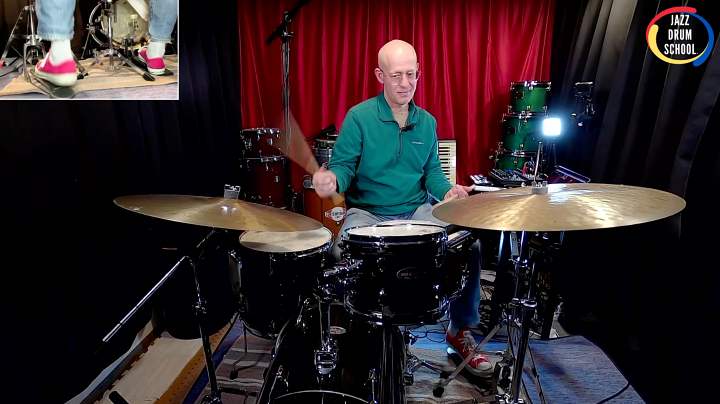 Von Baron
Jazz drummer, educator, composer
About YOUR TEACHER
Performing regularly on stage and in the recording studio for 35+ years, Von Baron is one of the busiest drummers in Japan.

Playing with Stanley Jordan, Benny Golson, Eddie Henderson, Geoff Keezer and many others gave Von the opportunity to hone his Jazz drumming skills.

It's with this real world experience, Von created this course to give you a solid foundation for your Jazz drumming.
Created with