Join today
JAZZ FUNK DRUMMING
Swing your Funk beats and drum fills
Play Funk beats with a swinging Hip-Hop feel on your Jazz gigs.
Welcome to Jazz Funk Drumming!
SKILL LEVEL: Beginner - Intermediate
Funk Beats In Jazz
My Jazz Funk Drumming drum lessons teach you how to play Funk beats with a Swing feel. This kind of drumming is often called Jazzy Hip Hop, Smooth Jazz or Swinging 16ths Drumming.

In the 1960's Funk drumming started finding its way into Jazz music. It then went on to be used in Jazz-Fusion music and is still used to this day on Jazz gigs.

We often play this style on Jazz gigs because it's so similar to the Jazz Swing feel. Many drummers though, don't know how to play with this type of drum feel.

Learning this type of drum groove will add more skills to your drumming tool box. It's another feel that will also get you more playing opportunities.

Funk On Drums
Playing Funk on drums in a Jazz style is incredibly fun. We can use this style to arrange popular songs in a Jazz setting. This Swinging 16ths Feel is also used in Hip-Hop drumming. So, you'll be able to use these exact same skills in other genres like Hip-Hop drumming too.
Jazz Funk Drumming Course
This course has 7 drum lesson instruction videos (about 1.5 hours of content), 3 instructor performance videos, 2 lesson PDF's and 2 drumless tracks. All of this material will prepare you for playing swinging Funk drum beats and Funk drum fills in real musical situations.
In these drum lessons, you'll learn 10 Funk beats and 3 drum fills. You'll also learn to play these Funk beats and drum fills with music. Connecting your playing to the music is the most important skill in drumming.
This is a great course to expand your Jazz drumming skills. Sign up today to spice up your playing with some swinging Funk beats.
Learn to swing your Funk beats with drumming brushes too. Check out my
Brushes Mastery Course
.
JAZZ FUNK DRUMMING LESSONS
Essential lessons for swinging your Funk grooves.
HOW TO GET THE FEEL 12:12
5 HI-HAT GROOVES 10:13
SPICE UP YOUR HI-HAT PLAYING 03:00
5 RIDE CYMBAL GROOVES 03:36
DRUM FILLS 18:16
CONNECTING TO THE MUSIC 20:28
INSTRUCTOR PERFORMANCE #1 03:50
INSTRUCTOR PERFORMANCE #2 04:55
INSTRUCTOR PERFORMANCE #3 03:46
LISTENING RECOMMENDATIONS 03:03
PREVIEW THE COURSE
Here's some of the drum fills lesson. This will also give you a taste of the course and how I teach.

There is a PDF download for this lesson when you join the course.
Jazz Funk Drumming Course
FOCUSED
This course saves you time and money by focusing on the most important skills you need to swing your Funk beats.

By the end of the course you'll groove hard, play solid Funk drum fills and improve your Funk drumming independence.
7 drum instruction videos

1.5 hours of drum lessons

3 performance videos

2 drum practice tracks

2 drum lesson PDF's.
AFFORDABLE
One-Time Payment. Lifetime Access to your course. Pay once, drum forever!
PAINLESS
Learn with a relaxed, step-by-step method at your own pace.

You can also track your progress and see how much you have accomplished. Example below is from the Brushes Mastery Course.

"Jazz Funk Drumming was sick! Von was super chill and really knew his stuff. I learned so many new beats and fills that I can't wait to try out with my band. Highly recommend."


Empty space, drag to resize
"It was an absolute blast! I recommend this course to any drummer looking to expand their musical horizons."


"Awesome, inspiring, fun!"


Need a little more help swinging your Funk beats?
Book a private online drum lesson with me. See my store for more details about my lessons!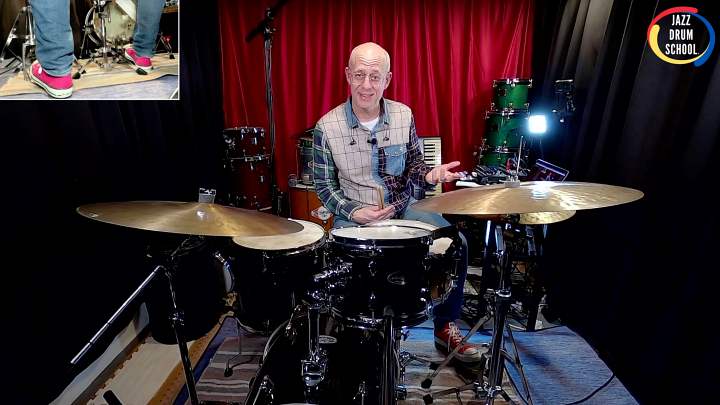 Von Baron
Jazz drummer, educator, composer
About YOUR TEACHER
Performing regularly on stage and in the recording studio for 35+ years, Von Baron is one of the busiest drummers in Japan.

Playing with Stanley Jordan, Benny Golson, Eddie Henderson, Geoff Keezer and many others gave Von the opportunity to hone his Jazz drumming skills.

It's with this real world experience, Von created this course to give you a solid foundation for your Jazz drumming.
Created with