Beginner Drum Lessons Pack
Beginner Jazz drumming lessons
Comp on the drums, improve your drum set independence, play Jazz Swing drum grooves and fills and trade fours.
INTRO TO JAZZ DRUMMING
Beginner drummer lessons for playing Jazz. Get up and swinging fast!
JAZZ DRUM COMPING
Learn to comp on the drums with the finesse of a pro!
INTRO TO JAZZ DRUMMING LESSONS
INTRO TO JAZZ DRUMMING LESSONS
Essential lessons for a solid foundation in Jazz drumming.
READING MUSIC 09:55

JAZZ DRUMMING GRIPS 12:39
THE MOELLER TECHNIQUE 08:53
THE QUARTER NOTE 10:53
THE JAZZ ACCENT 11:13
JAZZ RIDE CYMBAL 09:13
JAZZ HI-HAT 14:41
BASS DRUM TECHNIQUE 08:50
BASIC JAZZ BEAT 14:53
COORDINATION EXERCISES 19:50
COORDINATION EXERCISES PRACTICE 05:27
JAZZ DRUM FILLS 13:22
PUTTING IT TOGETHER 13:27
KEEP SWINGING! 01:53
JAZZ DRUM COMPING LESSONS
JAZZ DRUM COMPING LESSONS
Learn to comp with the finesse of a pro!
INTRO - 1:00
JAZZ DRUMS COMPING MADE EASY - 16:42
4 WAYS OF COMPING - 13:15
BEGINNER COMPING INDEPENDENCE - 11:35

15 JAZZ DRUM COMPING EXERCISES - 10:19
MODERN COMPING SYNCOPATION EXERCISES - 09:41
ADVANCED COMPING CONCEPTS - 20:01
BEBOP COMPING EXAMPLE #1 - 02:18
BEBOP COMPING EXAMPLE #2 - 0:53
BEBOP COMPING EXAMPLE #3 - 01:26
GROOVE COMPING EXAMPLE - 03:49
MODERN COMPING EXAMPLE - 09:52
Beginner Jazz Drum Lessons
Beginner drummer lessons to get you ready to play with other musicians.
Beginner Drum Lessons Pack
COMPLETE
Innovative Online beginner drummer lessons that get you swinging and having fun on the drums.

Save time and money with all of your drum lessons in one place.

Start learning Jazz drums with these easy-to-follow drum lessons.

You'll develop important Jazz drumming skills through:
4 hours of online drum lessons

20 instruction videos

with PDF's

9 backing tracks for drums practice

3 drum sheet music charts

AFFORDABLE
One-Time Payment. Lifetime Access to your course. Pay once, drum forever!
PAINLESS
Learn with a relaxed, step-by-step method at your own pace.

You can also track your progress and see how much you have accomplished.

What students are saying about this pack
Intro To Jazz Drumming
"Thank you VERY much! The lesson on hi-hat really helped me. It was gold and worth the price of the course alone."


Intro To Jazz Drumming
The videos are superb quality and how you address the particular points and nuisances that may lead to problematic issues is outstanding.
Just starting out and need a little extra help?
Book a private online drum lesson with me. See my store for more details about my lessons!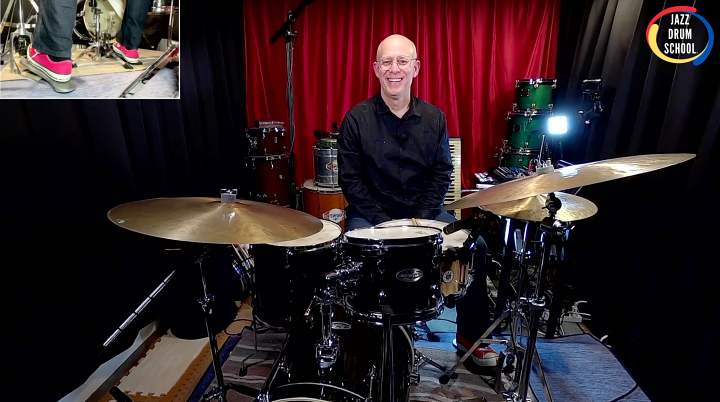 Von Baron
Jazz drummer, educator, composer
About YOUR TEACHER
Performing regularly on stage and in the recording studio for 35+ years, Von Baron is one of the busiest drummers in Japan.

Playing with Stanley Jordan, Benny Golson, Eddie Henderson, Geoff Keezer and many others gave Von the opportunity to hone his Jazz drumming skills.

It's with this real world experience, Von created this course to give you a solid foundation for your Jazz drumming.
Created with