SECRETS OF JAZZ DRUMMING
Stand out in any Jazz ensemble
Play great in any Jazz group with dozens of secrets that'll make you a first call Jazz drummer.
Welcome To Secrets of Jazz Drumming!
SKILL LEVEL: Beginner - Advanced
Innovative Drum Lessons
Secrets of Jazz Drumming
is a course of innovative drum lessons that walk you step-by-step through what I play in an actual live performance. I break down for you what I play, when I play it and why I play it. Through this series of online drum lessons you'll learn:
How to line up your limbs
The role of your ride and hi-hat in Jazz
How to leave space
Hi-hat set up tips
Easy and effective triplet drum fills
My on-stage listening checklist
How to play the Jazz Shuffle beat
How to play a one-handed buzz roll
How to match the articulation of the music
The art of Jazz drums Comping
Traditional vs. Matched grip
How Jazz drumming is different from every other style
Who you should listen to on the bandstand
Inverted Paradiddle Drum Fill
How to tripletizing the inverted paradiddle
How to anticipate and join in musical moments
The power of cymbal color
How to choose musical moments (when to play and not to play)
How to respond to the rhythm of the soloist
Call and Response
The powerful Triplet Accent Pattern
How to crash cymbals
Single Paradiddle fills
How to use repetition
When to imitate the soloist's rhythm
How to Recover from mistakes
How to match dynamics
How to use quarter note triplets
How to use double-time feel
How to leave space
My 25% rule for Jazz Drumming
How to match dynamics of improvised kicks
How to make your ride playing swing harder
Quoting melodies of famous Jazz tunes
How to trade fours on the drums
How to use melodic drumming during fours
How to sing your solos
How to shape your solos with dynamics
Tips for using hemiola patterns in your solos
Tips for clean double stroke rolls
How to use double stroke rolls around the drums
Transition drumming
How to play Samba Brushes
Bass drum technique
How to embellish the Samba Brushes groove
Using drum fills to mark the song form
How to use rhythmic Tension
Double-time caution
Leaving space for the soloist
Importance of musical support
How to recover from mistakes with bossa/samba
Using foot ostinatos
How to use the single stroke 4
How to move from brushes to sticks
How to play stick flams
How to choke cymbals
How to use the push-pull/drop-catch technique
How to deadstick
How to transition from section to section
The kind of musicians you should play with
Drumming with hands
When to use drum sticks or drum brushes
How to play 4/4 and 3/4 Swing on the drums
Ballad drum brushes playing
Latin drumming
How to play straight 8ths/ECM drum grooves
How to play smooth and swinging drum fills
How to play drums with the other instruments in the band
Jazz Standard Song form
And tons more...
DRUM LESSONS ONLINE
Drum lessons online at other sites usually focus only on how to play drum beats and drum fills. They don't help you learn how to play in real musical situations. My Secrets course and every course change all of that. Now you can learn secrets used by the greatest Jazz drummers and play great with other musicians.
This course is great for intermediate to advanced skill level drummers but is also helpful for a beginning drummer learning Jazz. If you are looking for beginner drummer lessons, I encourage you to also check out my
Intro To Jazz Drumming Course
.
When you finish this course, you'll know what to play and when to play it. These drum lessons will help you be your best behind the drums in almost any Jazz drumming situation.
The great part about learning these secrets, is you can use them in any other style of drumming you want to play. Even if you play Rock or Funk drums, these secrets will make you a more successful drummer.
LEARNING JAZZ DRUMS
The great part about learning these secrets and Jazz drumming, is you can use these new skills in any other style of drumming you want to play. Even if you play Rock or Funk drums, learning Jazz drums will make you a more successful drummer.
Jazz drumming is really a World Music style of playing because we use beats from all around the globe. In this course alone, you'll learn 6 of the most important drumming styles we play in Jazz drums:
4/4 Swing
3/4 Swing
9/8 or 3/4 Afro-Cuban
Jazz Ballad
Samba
Straight 8ths/ECM
After you finish these drum lessons you may want to go deeper. Check out my
Brushes Mastery Course
to learn more about drumming with brushes in various styles of music.
My
Afro-Cuban Latin Drumming course
will also improve your drummer independence and give you many new grooves you can play on the bandstand.
I'm looking forward to revealing over 100 powerful drumming secrets with you today!
Drum Lessons Power Pack
Get this course + 3 more at a huge discount! Focused Jazz drumming lessons for beginner to advanced drummers.
Get swinging at an incredible price!
The most important Jazz drumming skills you need to know
RED'S BLUES - Sax Solo 56:50
RED'S BLUES - Piano Solo 11:35
RED'S BLUES - Drums Trading 4's 12:23
RED'S BLUES (SAX, PIANO, DRUMS SOLOS) 06:44

26-2 - Piano Solo 32:07
26-2 - Sax Solo 11:49
26-2 - Bass Solo 07:56
26-2 (SAX, PIANO, BASS SOLOS) 06:04

04 3/4 JAZZ SWING & 9/8 (3/4) AFRO-CUBAN LATIN BEATS
RAIN WALTZ - Piano Solo 37:57
RAIN WALTZ - Sax Solo 10:05
RAIN WALTZ - Bass Solo 06:31
RAIN WALTZ (SAX, PIANO, BASS SOLOS) 08:01

05 STRAIGHT 8THS/ECM FEEL
SAIL AWAY - Piano Solo 24:15
SAIL AWAY (PIANO SOLO) 03:38

STAR-CROSSED LOVERS - Sax, Piano, Bass Solos 24:45
STAR-CROSSED LOVERS (SAX, PIANO, BASS SOLOS) 05:20

07 4/4 JAZZ SWING 16-MEASURE
DOXY - Sax, Piano, Bass, Drums 38:48
DOXY (SAX, PIANO, BASS, DRUMS SOLOS) 07:14

PREVIEW THE COURSE
Here is a preview from the hours of drum lessons in this course. Notice how the teaching follows the music. There is also a PDF download for most of the drum lesson videos when you join the course.
The Secrets of Jazz Drumming Course
FOCUSED
This course saves you time and money by focusing on the most important skills you need, to learn how to play Jazz drums.

At the end of this course, you will understand how to play Jazz drums in real musical situations.

You'll develop essential drumming skills through:
5 hours of online drum lessons

8 instruction videos

6 Instructor demonstration videos




6 drum lesson PDF's.
AFFORDABLE
One-Time Payment. Lifetime Access to your course. Pay once, drum forever!
PAINLESS
Learn with a relaxed, step-by-step method at your own pace.

You can also track your progress and see how much you have accomplished. Example below is from the Brushes Mastery Course.

"I bought the the secrets to jazz drumming and love this course. Really well done - lots of great tips - information."


"The lessons were well-structured and Von's passion for Jazz drumming is infectious. Overall, I highly recommend this course to anyone looking to improve their Jazz drumming skills."


Wanna learn more Jazz drumming secrets?
Book a private online drum lesson with me. See my store for more details about my lessons!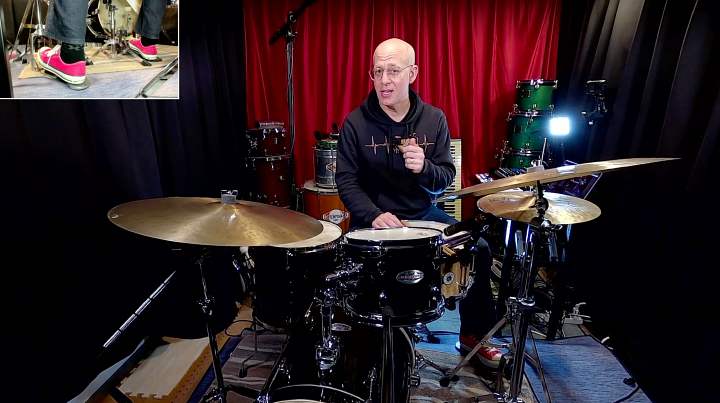 Von Baron
Jazz drummer, educator, composer
About YOUR TEACHER
Performing regularly on stage and in the recording studio for 35+ years, Von Baron is one of the busiest drummers in Japan.

Playing with Stanley Jordan, Benny Golson, Eddie Henderson, Geoff Keezer and many others gave Von the opportunity to hone his Jazz drumming skills.

It's with this real world experience, Von created this course to give you a solid foundation for your Jazz drumming.
Created with