JAZZ DRUM COMPING
MINI COURSE
Learn to comp with the finesse of a pro
Comp with confidence on the drums in BeBop and Modern comping styles.
Welcome to the Jazz Drum Comping Mini Course!
SKILL LEVEL: Beginner - Advanced
Jazz Drum Comping
My Jazz Drum Comping mini course teaches you the nuts and bolts of comping on the drums. Whether you are new to Jazz drumming or a working drummer, you'll learn important concepts and skills in my course to improve your playing.

There are 6 drum set comping lessons including exercises and concepts. Many of the lessons also have a PDF with the exercises written out for you. I've even thrown in 3 drumless tracks + the PDF drum charts and 5 real playing examples from my gigs.

Why Is Jazz Drum Comping Important?
When it comes to the art of Jazz music, the drum kit serves as the backbone, the heartbeat that propels the band forward. Jazz drum "comping" (short for accompanying) is the intricate dance of rhythm and creativity that a drummer weaves into his/her fellow musicians' parts.

This is especially true for playing behind soloists and with other rhythm section players. Drum comping shapes the unique sound of Jazz.
The Essence of Jazz Drum Comping
Jazz is often described as a conversation between instruments, with each player contributing their unique voice. Drummers, in particular, have an opportunity to be a part of this conversation. This is where comping comes in.
Comping is rhythmic counterpoint that complements and uplifts the solos and rhythm section playing. It's the grease on the wheels of improvisation.
Comping is also
active listening. Drummers need to hear and respond to the rhythmic, melodic and harmonic choices of their fellow musicians.
They can then support their ideas and give targeted rhythmic support. The goal is not to overpower the soloist. Instead we want to elevate their solo to a higher musical experience.
To do all of this, you'll need to have some serious drumming independence under your belt. This Jazz Drum Comping mini course will give you a solid start.
If you are new to Jazz drumming, you may also want to enroll in my Intro to Jazz Drumming course. Learn beginning drumming exercises, drummer independence, drum grooves, drum fills and Jazz drums concepts.


Join my Beginner Drum Lessons Pack and get both my Intro and Comping courses for an unbeatable price. See below for more details.
Get swinging at a great price.
JAZZ DRUM COMPING LESSONS
Learn to comp with the finesse of a pro!
INTRO - 1:00
JAZZ DRUMS COMPING MADE EASY - 16:42
4 WAYS OF COMPING - 13:15
BEGINNER COMPING INDEPENDENCE - 11:35

15 JAZZ DRUM COMPING EXERCISES - 10:19
MODERN COMPING SYNCOPATION EXERCISES - 09:41
ADVANCED COMPING CONCEPTS - 20:01
BEBOP COMPING EXAMPLE #1 - 02:18
BEBOP COMPING EXAMPLE #2 - 0:53
BEBOP COMPING EXAMPLE #3 - 01:26
GROOVE COMPING EXAMPLE - 03:49
MODERN COMPING EXAMPLE - 09:52
PREVIEW THE COURSE
Here's some of the lesson with 15 great Jazz drum comping patterns to get your arms and legs moving!

There is a PDF download for this and all of the exercises in the course when you enroll.
The Jazz Drum Comping Mini Course
FOCUSED
This course saves you time and money by focusing on the most important Jazz drum comping skills.

By the end of these online drum lessons, you'll be able to comp on the drums with a band.
6 drum lesson videos with PDF's

3 drum practice tracks with PDF drum charts

5 video examples from real gigs using these skills.
AFFORDABLE
One-Time Payment. Lifetime Access to your course. Pay once, drum forever!
PAINLESS
Learn with a relaxed, step-by-step method at your own pace.

You can also track your progress and see how much you have accomplished. Example below is from the Brushes Mastery Course.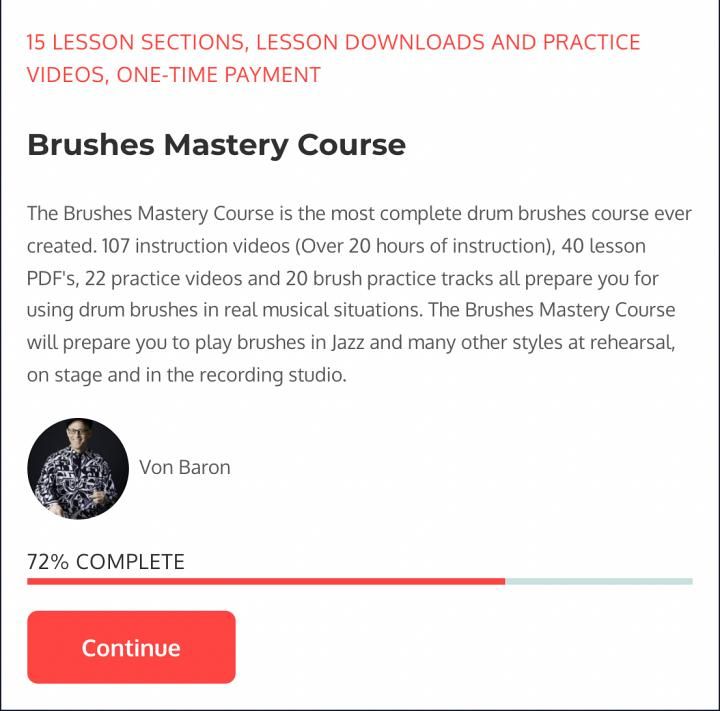 Need a little more help with drum set coordination or comping?
Book a private online drum lesson with me. See my store for more details about my lessons!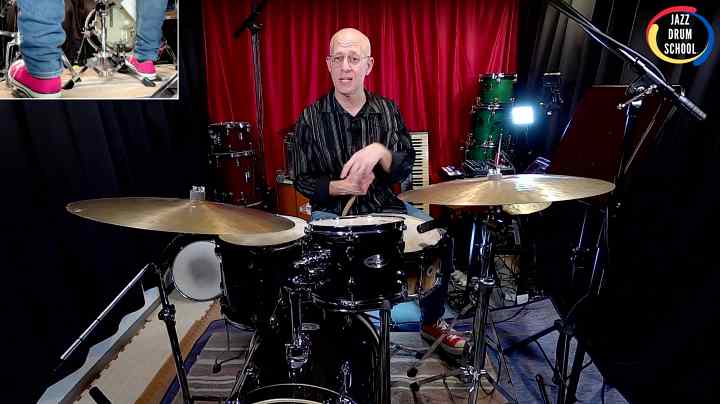 Von Baron
Jazz drummer, educator, composer
About YOUR TEACHER
Performing regularly on stage and in the recording studio for 35+ years, Von Baron is one of the busiest drummers in Japan.

Playing with Stanley Jordan, Benny Golson, Eddie Henderson, Geoff Keezer and many others gave Von the opportunity to hone his Jazz drumming skills.

It's with this real world experience, Von created this course to give you a solid foundation for your Jazz drumming.
Created with