CUSTOMER SUPPORT AND FAQ's
Have questions, comments or concerns?
Subscribe to my Jazz Drum School Free Drum Lesson emails. I'll send you a
free Jazz drum lesson video
every month to improve your playing.

I'll also share drumming tips as well as course updates and special discounts on courses at Jazz Drum School. Sign up today and get your first free lesson video now!
Frequently asked questions
Jazz drumming coordination, musicianship and varied styles of playing make it a powerful foundation for any drummer.

I've always said, if you learn Jazz drumming, everything else is a piece of cake. It's also incredibly FUN!

There is great freedom in Jazz drumming to interact and respond to the music. Creativity is valued more beat making.

What can you offer that I can't get at other online drum schools or lessons?
Learning Jazz drumming technique is only 50% of the skill needed to play brushes and Jazz drums successfully on the bandstand. The other 50% is knowing how to connect that technique to the music.

Many online drumming courses stop at learning drum fills and grooves. My Jazz drumming courses will help you learn those skills and use them in real musical situations. Connecting your drumming to real music and real musicians is essential for success.
Can I watch the course videos on my phone?
Yes! You can use any web browser on your iPhone or Android mobile device and tablet to easily play course videos and track your progress.

In addition to your mobile devices, you can enjoy lessons on your laptop or desktop computers.
Should I follow the lessons sequentially?
My Jazz drumming courses are designed to move from one lesson to the next. I encourage you not to jump around.

There may be concepts or specific skills you hadn't thought of or learned, so moving sequentially will ensure that you cover everything.
Can I contact Von Baron with drumming questions?
Yes, absolutely! At Jazz Drum School we have our own messaging system. Send me a message anytime with questions about your Jazz drumming or the courses and I'll be happy to help!

You can access your messages through your login page. Please see the pic below.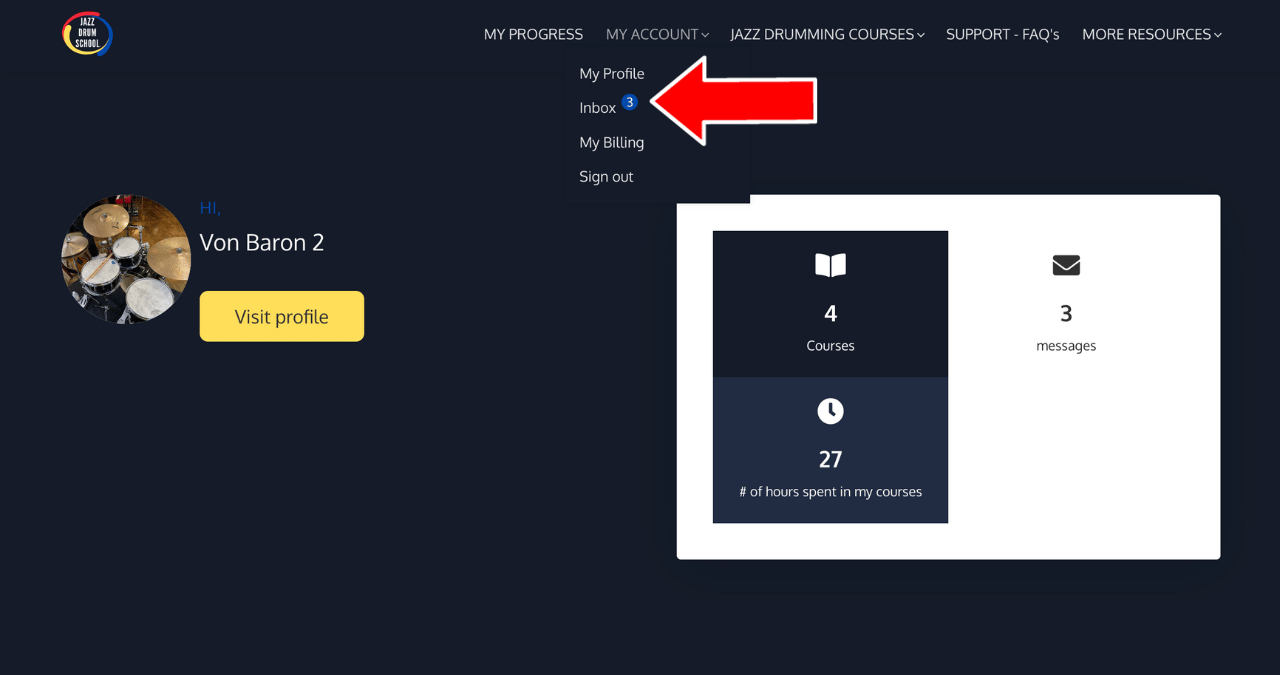 Yes, there is a 3-day trial period for the annual plan and a 2-day trial for the 6-month plan. If you cancel within that period, your credit card won't be charged.

The lifetime course payments and monthly subscription plan do not have trial periods due to the large number of downloads in each course.

If you have any questions, comments or concerns about your courses, please feel free to contact me above. I will work hard to make things right for you. Thanks so much in advance for your understanding.
Due to the large number of downloads in each course, we do not offer refunds. If you are on the Monthly, 6-Month or Annual plan, you can cancel at any time.

You will then have access to your courses until the date that your current subscription expires. If you chose the One-Time payment option, there is no course expiration date.
How do I access my courses?
After your purchase is complete, you will be directed to your login/start page. Scroll down and you will see all of the courses you have enrolled in.

You can then click on the course you'd like to continue and it will open the course video player. Please see the screen recording below for how to access your course and the PDF and MP3 downloads.
Can I pay in my currency?
All prices at Jazz Drum School are in US Dollars however, most credit cards will allow you to purchase your courses in multiple currencies.

Jazz Drum School uses Stripe and PayPal for secure online payments.
After your purchase is complete, you will be directed to your login/start page.
Created with