BRAZILIAN DRUMMING
Master the Samba, Bossa Nova and Baião drum grooves for your Jazz drumming.
Play Bossa Nova, Samba and Baião Jazz beats with confidence.
Welcome to the Brazilian Drumming Course!
SKILL LEVEL: Beginner - Advanced
Bossa Nova Drum Beats And More
My
Brazilian Drumming Course
will teach you, Samba, Baião and Bossa Nova drum beats with. These are the most used Brazilian grooves in all of Jazz drumming. When you're done with this course, you'll know how to play Bossa Nova, Samba and Baião on the drum set many different ways. This will help you to adapt to any playing situation and sound authentic in any Jazz music situation.
West-African drumming evolved into two main rhythmic families we call "Latin" drumming. One family is Brazilian (coming from Brazil) and the other Afro-Cuban (coming from Cuba).

Brazilian drumming and Bossa Nova drum beats in particular have contributed greatly to the creation and evolution of Jazz music and Jazz drumming. In fact, Bossa Nova is the second most-used drum groove I play on gigs second only to Swing.
Bossa Nova Drum Beats, Samba Drumming and Baião
As with all Latin drum grooves, Samba drumming, Bossa Nova and Baião take the percussion parts of Brazilian music and put them on the drum kit. This of course can make the drum set coordination a little tricky.

In this course, I share with you my signature way to learn complicated drum beats fast and be up and grooving in no time at all. I also share how to connect your Samba grooves to the other musicians in the band.

During the 35+ years of my professional career, I have performed Brazilian music in the U.S., Canada, Europe, Brazil and Japan. Along the way, I figured out 6 essential Brazilian rhythms that are used in all of Samba and Bossa Nova music. I teach these in detail within this course.

Knowing these 6 rhythmic patterns will make it so easy for you to lock in with any band playing this great music. You'll learn how to use them smoothly with both Samba and Bossa Nova drum beats.
Baião is not as well-known as its rhythmic cousins Bossa Nova and Samba. Even so, it's one of my essential Brazilian drum set grooves and a so much fun to play. It also fits nicely when playing some
Afro-Cuban Latin drumming
.
More About The Brazilian Drumming Course
Course highlights include:
22 drum lessons (over 5 hours of content)

How to play with Brazilian drumming feel
6 essential Bossa Nova and Samba rhythms
Bossa Nova drum beats
7 ways I like to play Samba
5 Baião grooves I use a ton
11 Bossa Nova and Samba drum set independence exercises
How to play your grooves on both hi-hat and ride cymbal
Bonus Grooves: Partido Alto and Samba Funk
16 pages of PDF lesson downloads
12 drum practice tracks (many with PDF drum charts)
8 videos of me using these grooves on gigs
A huge list of Listening recommendations
And more...

This course is great for the beginning drummer up to the advanced drummer. Sign up today and add Samba, Baião and Bossa Nova drum beats to your Jazz drum set playing.
AFRO-CUBAN DRUMMING LESSONS
The essential Brazilian grooves every Jazz drummer needs to know.
BRAZILIAN DRUMMING COURSE INTRO - 05:35
6 BRAZILIAN RHYTHMS - 04:13
BRAZILIAN 16TH NOTE FEEL - 12:03
7 BRAZILIAN PERCUSSION INSTRUMENTS - 30:17
BASIC COORDINATION (INDEPENDENCE) - 07:48
HI-HAT BOSSA NOVA GROOVES - 15:50
RIDE CYMBAL BOSSA NOVA GROOVES - 10:48
HI-HAT SAMBA GROOVES - 15:34
RIDE CYMBAL SAMBA GROOVES - 11:12
SNARE DRUM INDEPENDENCE EXERCISES - 26:52
PUSH-PULL TECHNIQUE - 10:23
HI-HAT ACCENTS AND PHRASING - 21:28
SAMBA FEEL DRUM FILL - 10:06
PARTIDO ALTO GROOVES - 12:24
PETER ERSKINE SAMBA GROOVES - 16:05
FLOOR TOM SAMBA GROOVES - 20:10
SAMBA FUNK GROOVE - 09:44
SHAKER SAMBA GROOVES - 16:52
HAND DRUMMING BOSSA AND SAMBA - 12:40
SNARE DRUM SAMBA GROOVES - 09:33
BAIÃO GROOVES - 24:17
PICKING THE RIGHT RHYTHM - 13:30
LISTENING SUGGESTIONS AND CONCLUSION - 01:06
BOSSA NOVA PERFORMANCE EXAMPLE 1 - 04:03
BOSSA NOVA PERFORMANCE EXAMPLE 2 - 02:39
SAMBA PERFORMANCE EXAMPLE 1 - 02:03
SAMBA PERFORMANCE EXAMPLE 2 - 05:55
SAMBA PERFORMANCE EXAMPLE 3 - 07:48

PETER ERSKINE SAMBA EXAMPLE - 01:22
HAND DRUMMING EXAMPLES - 05:24
BAIÃO PERFORMANCE EXAMPLE 1 - 01:30
BAIÃO PERFORMANCE EXAMPLE 2 - 01:30
The Brazilian drumming course was so cool! I learned to play a ton of different rhythms and beats in Brazilian drumming and percussion.


Great course, learned so much!


Von, your Brazilian course is excellent, thank you! I both enjoyed and learned new things, such as Funk and Partido Alto. And your use of Samba percussion is "wow"! You really got the feel deeply! Thanks, Von!


Jukka S.
PREVIEW THE COURSE
Here's some from the Samba ride cymbal drum lesson. There is a PDF download for this and all of these grooves when you enroll.
The Brazilian Drumming Course
FOCUSED
This course saves you time and money by focusing on the most important Samba, Baião and Bossa Nova drum beats you need to play Jazz drums like a pro.

By the end of these online drum lessons, you'll improve your drum set independence and be able to play the many Brazilian Jazz standards like Girl From Ipanema and One Note Samba.
22 video drum lessons (over 5 hours of instruction)

A 16 pages of PDF downloads with all of the drum grooves and exercises written out.


12 backing tracks for drums.

8 video examples from my actual performances using these grooves.
AFFORDABLE
One-Time Payment. Lifetime Access to your course. Pay once, drum forever!
Monthly, 6-Month and Annual GROOVE PASS subscriptions also available. See below to learn more!
PAINLESS
Learn with a relaxed, step-by-step method at your own pace.

You can also track your progress and see how much you have accomplished. Example below is from the Brushes Mastery Course.

Easy as one, two or three
Pay Per Course or Choose Your Plan
or
Monthly Groove Pass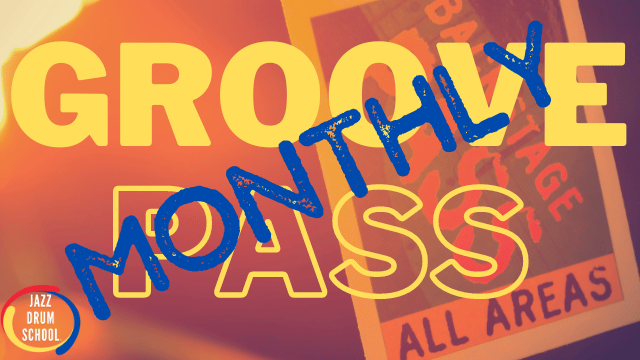 $29.95/Month
Dive into the world of Jazz drumming using the Monthly Groove Pass. Every course is within reach with an affordable monthly investment in your passion!
Full access to every course

Access to Von Baron for questions

Track your drumming progress


3-Day trial
6-Month Groove Pass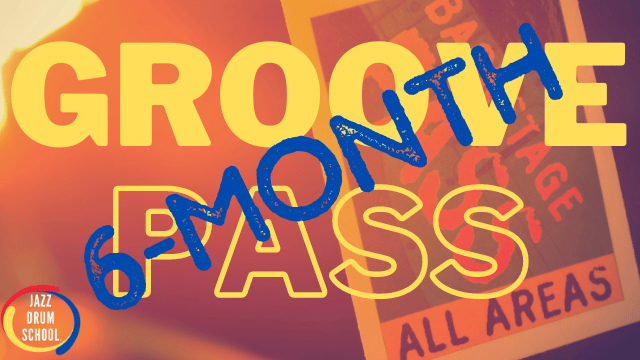 $150/6-month
Discover your Jazz drumming excellence with the 6-Month Groove Pass— access all courses for a budget-friendly semi-annual investment in yourself!
1 month free

Full access to every course

Access to Von Baron for questions

Track your drumming progress

3-Day trial
Annual Groove Pass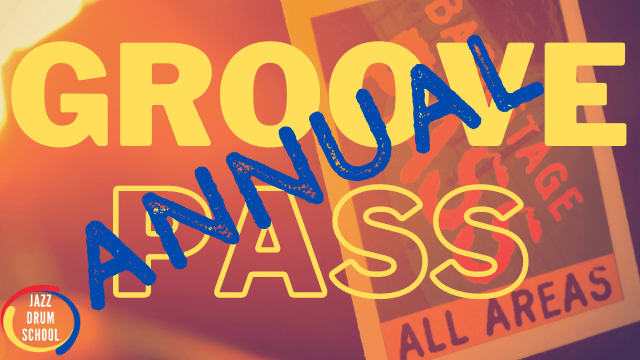 $270/Yearly
Immerse yourself in the universe of Jazz drumming through the Annual Groove Pass! All courses are at your fingertips with a budget-friendly yearly commitment to your musical journey!
3 months free

Full access to every course

Access to Von Baron for questions

Track your drumming progress

3-Day trial
Need a little more help with your Bossa Nova drum beats?
Book a private online drum lesson with me. See my store for more details about my lessons!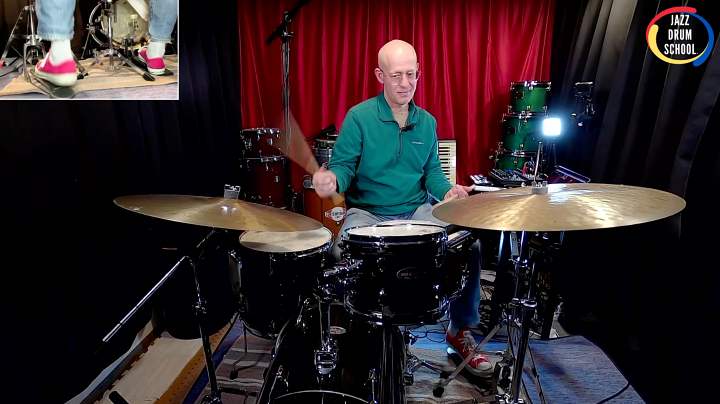 Von Baron
Jazz drummer, educator, composer
About YOUR TEACHER
Performing regularly on stage and in the recording studio for 35+ years, Von Baron is one of the busiest drummers in Japan.

Playing with Stanley Jordan, Benny Golson, Eddie Henderson, Geoff Keezer and many others gave Von the opportunity to hone his Jazz drumming skills.

It's with this real world experience, Von created this course to give you a solid foundation for your Jazz drumming.
Created with