INTRO TO JAZZ DRUMMING
Start swinging with beginner Jazz drum lessons
Improve your drum set independence, play Jazz Swing drum grooves and fills and trade fours.
Welcome to Intro To Jazz Drumming!
SKILL LEVEL: Beginner
Beginner Drummer Lessons
Intro to Jazz Drumming
is great course for beginners to learn how to play the drums in a Jazz style. In these drum lessons you'll learn how to swing hard, improve your drummer independence skills and trade fours (drum solos) on the drums.
Learning how to play Jazz drums is a gradual process. It's important to start with a tested, successful teaching method.
You need beginner drummer lessons that teach you the basics of Jazz drumming and how to play the drums with other musicians.
My Intro course will do both of these things.
Online Drum Lessons
In these online drum lessons, you'll learn, how to play with swing feel, important Jazz drum beats, drum fills and trading fours. We'll also be practicing together with real musicians.
These drum lessons will get you up and swinging quickly with drum sticks. To learn to drum with brushes I encourage you to also check out my
Brushes Mastery Course
.
This course contains 14 beginner drummer lessons for Jazz drumming (Over 2.5 hours of content), 8 drum lesson PDF's and 6 drum practice tracks.
The great thing about online drum lessons, is you can move at your own speed. Take as long as you need to learn from each video.
Drum Lessons For Every Drummer
The Intro course drum lessons will give you a solid foundation in drumming and Jazz drumming. Even if you don't want to be a Jazz drummer, the skills you learn from this course will help you play any other style of music you want to play.
Once you're done with this course, be sure to check out my
Jazz Drumming Patterns Course
to take your drummer independence skills to the next level. The Patterns course will also help you play every other style of drumming you want to play.
I'm looking forward to seeing you in the Intro drum lessons today!
INTRO TO JAZZ DRUMMING LESSONS
Essential lessons for a solid foundation in Jazz drumming.
READING MUSIC 09:55

JAZZ DRUMMING GRIPS 12:39
THE MOELLER TECHNIQUE 08:53
THE QUARTER NOTE 10:53
THE JAZZ ACCENT 11:13
JAZZ RIDE CYMBAL 09:13
JAZZ HI-HAT 14:41
BASS DRUM TECHNIQUE 08:50
BASIC JAZZ BEAT 14:53
COORDINATION EXERCISES 19:50
COORDINATION EXERCISES PRACTICE 05:27
JAZZ DRUM FILLS 13:22
PUTTING IT TOGETHER - TRADING FOURS 13:27
KEEP SWINGING! 01:53
PREVIEW THE COURSE
Here's part of the last of the drum lessons. It shows you all that you will be able to do after completing this course. Check out my relaxed and easy-to-follow teaching style too.

There is a PDF download and drumless track for this and many of the drum lessons when you enroll.
Get swinging at a great price.
"Thank you VERY much! The lesson on hi-hat really helped me. It was gold and worth the price of the course alone."


Jonathan M.


"I'm enjoying the 'straight to the point' style of the videos."


The Intro To Jazz Drums Course
FOCUSED
This course saves you time and money by focusing on the most important skills you need to learn how to play Jazz drums.

By the end of these online drum lessons, you'll swing hard, trade fours (drum solos) and improve your drumming independence (coordination).


Over 2.5 hours of online drum lessons

14 drum lesson videos

6 drum practice tracks

8 drum lesson PDF's.

AFFORDABLE
One-Time Payment. Lifetime Access to your course. Pay once, drum forever!
PAINLESS
Learn with a relaxed, step-by-step method at your own pace.

You can also track your progress and see how much you have accomplished. Example below is from the Brushes Mastery Course.

Need a little more help with Jazz drumming?
Book a private online drum lesson with me. See my store for more details about my lessons!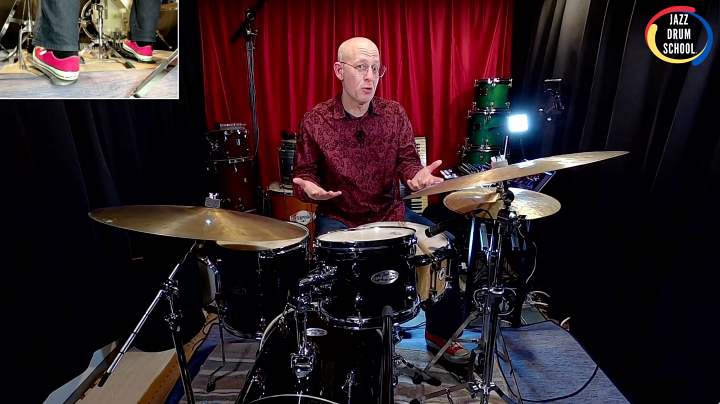 Von Baron
Jazz drummer, educator, composer
About YOUR TEACHER
Performing regularly on stage and in the recording studio for 35+ years, Von Baron is one of the busiest drummers in Japan.

Playing with Stanley Jordan, Benny Golson, Eddie Henderson, Geoff Keezer and many others gave Von the opportunity to hone his Jazz drumming skills.

It's with this real world experience, Von created this course to give you a solid foundation for your Jazz drumming.
Created with