Join today
JAZZ DRUMMING PATTERNS
Transform your drum set independence
Play with the drumming independence of your favorite master Jazz drummers.
Welcome to the Jazz Drumming Patterns Course!
SKILL LEVEL: Intermediate - Advanced
Jazz Drum Patterns
My
Jazz Drumming Patterns
course takes your playing to another level. Learn how to use each of your limbs in more creative and musical ways. After completing this course, you will have a lot more fun playing the drums.
Jazz drumming is often described as 'independence drumming' because it seems like we can use each of our limbs independently from one another. The truth is, our brains memorize patterns of our limbs playing together.

The more drum patterns we can learn, the more we can do on the drums. Jazz drumming has some of the most difficult drumming patterns of any style of music. For this reason, learning Jazz drumming will improve any style of drumming you want to play.
Why Is Drummer Independence Important?
Modern music and drumming has become more complex and the skill needed to succeed in drumming has increased in recent years. Having greater drummer independence will help you succeed on any drumming opportunity that comes your way.
My drum lessons will help you move beyond simply playing basic drum beats. You'll be more musical and be able to interact with the music and other musicians much more. Your
Jazz drums comping
will also improve a lot.
Drums Independence Lessons
There are 8 drum set independence exercises that progress from easy to difficult. Each of the lessons also has a PDF with the exercises written out for you. I've even thrown in a drumless track and two real playing examples from gigs I played.
Improving your coordination on the drums will improve the quality and quantity of your playing opportunities. Sign up today and free yourself to really play what you want to play on the drums.
Try my
Afro-Cuban Latin Drumming course too
. It'll take your drum set independence even further!
JAZZ DRUMMING PATTERNS LESSONS
Powerful drumming coordination exercises that transform your drumming.
INTRO AND JAZZ DRUMMING PATTERN #1 - 16:32

JAZZ DRUMMING PATTERN #2 - 04:05
JAZZ DRUMMING PATTERN #3 - 03:41
JAZZ DRUMMING PATTERN #4 - 04:38
JAZZ DRUMMING PATTERN #5 - 02:55
JAZZ DRUMMING PATTERN #6 - 02:34
JAZZ DRUMMING PATTERN #7 - 03:58
JAZZ DRUMMING PATTERN #8 - 03:41
PUTTING IT ALL TOGETHER - 07:28
JAZZ DRUMMING PATTERNS PERFORMANCE #1 - 02:10
JAZZ DRUMMING PATTERNS PERFORMANCE #2 - 12:25
PREVIEW THE COURSE
Here's some of the last drum lesson. It shows you just how far I'll be stretching your drummer independence in this course.

There is a PDF download for this and all of the exercise videos when you enroll.
The Jazz Drumming Patterns Course
FOCUSED
This course saves you time and money by focusing on the most important coordination skills you need to play Jazz drums like a pro.

By the end of these online drum lessons, you'll be able to do things on the drums you probably thought were impossible before.
8 drum lesson videos with PDF's

1 drum practice track with drum score

2 video examples from real gigs using these skills.

AFFORDABLE
One-Time Payment. Lifetime Access to your course. Pay once, drum forever!
PAINLESS
Learn with a relaxed, step-by-step method at your own pace.

You can also track your progress and see how much you have accomplished. Example below is from the Brushes Mastery Course.

Need a little more help with drum set coordination?
Book a private online drum lesson with me. See my store for more details about my lessons!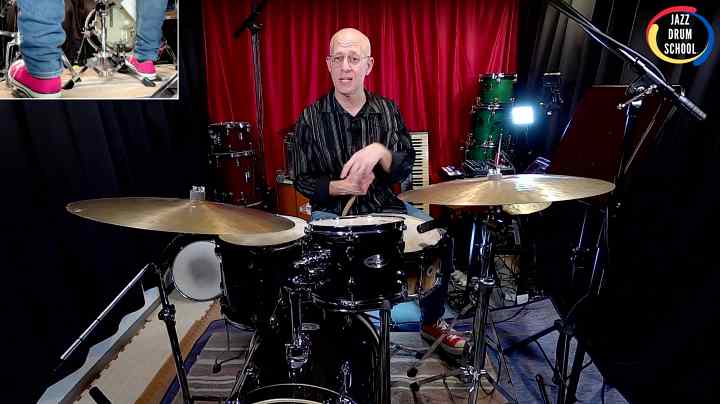 TESTIMONIALS
What drummers say about Jazz Drumming Patterns
Many thanks for a fantastic programme, really loving it and I love jazz music.
"It's like there's a million things to play out there, but you have condensed all of JAZZ coordination into a series of lessons…Once I am done with this, I'll have the foundation to play rhythms like Brian Blade or any drummer for that matter…."
Von Baron
Jazz drummer, educator, composer
About YOUR TEACHER
Performing regularly on stage and in the recording studio for 35+ years, Von Baron is one of the busiest drummers in Japan.

Playing with Stanley Jordan, Benny Golson, Eddie Henderson, Geoff Keezer and many others gave Von the opportunity to hone his Jazz drumming skills.

It's with this real world experience, Von created this course to give you a solid foundation for your Jazz drumming.
Created with